He used to tell me that he loved me.

When he lost those words last year it left a hole in my heart. As he fell deeper within himself I worried that I would never hear him say it again. Alright, worried might be an understatement.
I was devastated.
As the days passed we tried to build a bond with Xander, fighting the autism as it threatened to drag him away from us. We made much progress, but our desperate I love you's were continually met with a blank stare or a flat "okay". When he developed echolalia, which is the involuntary repetition of sounds and words, I remember crying from joy. He had no idea what he was saying, or why he was saying it, but dear Jesus I could pretend that he did. I learned to just say "I love you" to him instead of saying "I love you Xander" because when he repeated back "I love you Xander" it killed my dream.
Things finally changed a couple of months ago when Xander was home alone with his Dad for a few hours. When I came home it was clear that Xander hadn't had a great time. He was horribly upset and threw himself into my arms the moment I walked in the door. I lifted him up and rocked him for a few minutes before pulling back to look at his face.
"Did you miss Mama, buddy? I sure missed you! Mama missed you a lot!"
As I was about to put his head back on my shoulder he looked at me and said "My miss Mama." and wrapped his arms around me tighter.
I don't know what made that moment click for him, but it did. That moment gave us back Xander's I love you.
Every night when I tuck him in bed he will put his hand on the side of my face and say with emotion "Xander miss Mama." He has learned his name and exchanged the word my for Xander, but the feeling behind that statement stays the same. I absorb every moment that those chubby little fingers touch my cheek and think of how lucky I am.
My miss you too, Xander.
*********************************************************************************
**EDIT: This post is a winner!!**
Thank you for the overwhelming support, you have made a tired Mother's day so much better.
If you would like to post an announcement like this on your own blog, come and join us at Yeah Write! Head on over and read what we are all about and see if we are the right fit for you. Betcha we are!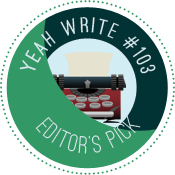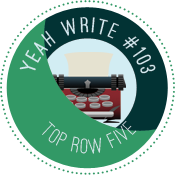 Come visit the peeps at Yeah Write! I promise you'll miss them just as much as I do.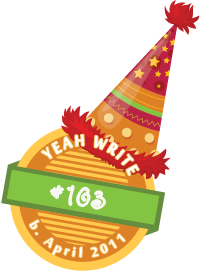 This month is also Autism Awareness/Acceptance Month. Have questions? I can help you find answers and am always available to chat. Let's change the way the world views our kids!